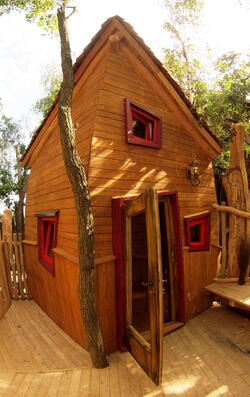 Gundiok the Goth went on a journey to Turisedia so that his sick child could be healed. While he took care of his son and cow here, he also took the opportunity to have an amorous tête-à-tête with the fairy-lady Fiona. But that doesn't have to be shouted from the tree tops!
A collection of bells can be found inside his snuggery. Legend has it, that Schiller and Gauß spent a night together in this place.
Recommended maximum occupancy: 2 adults + 4 children
Bedsize (in m): 1,60x1,98 / 2x 1,90x0,80
collector's passion: bells
Features: outdoor hammock, electric heating, little kitchen, toilet with washbasin
Price
230,00 €* per Night additionally a fantastic breakfast buffet with 12,00 €** for adults and 6,00 €** for children (4-14 years).
This includes:
All prices incl. current applicable value added tax
Attention! Even in the winter season you can stay in this cozy heated tree house. Experience a wintry adventure night with a romantic view over the snowy meadows of the river Neisse at snow-flake-affordable prices. In winter we have the so called "Time of Snugness", in which a small part of the park is opened including the rustic Tree Trunk Inn, the bird watching station, the winter-animal-garden, the doll's house, the Turisedian spa (with bathing cauldron over fire-wood and sauna) and the free Sunday program.

More information can be found here.
Additionally you can book:
Theatre Dining - Our fantastic Dinnershow the "KRÖNUM". A top quality team of artists and a four-course meal is waiting for you in the unique Turisedian coronation hall - an evening you will never forget.
If you stay over night you just have to pay 42€ instead of 56€.
If the Krönum does not take place, you can spend the night in our Turisedian Spa - the Faulenzum:
Our sauna, with comfortable relaxation room and the big cannibal cauldron for bathing at a dizzy height.
Tribute for the sauna: 10€ per person
Tribute for the bathing cauldron for up to 10 persons (optimum is 7 persons): 65,00 €
All prices incl. current applicable value added tax
After an exciting day on the Kulturinsel you will have an unforgettable night. However, one day in the adventure wilderness is not enough and maybe you also want to explore our exciting "neighboring worlds"? For smart sleepers, who want to spend more time in the world of Turisedia, we have a Short-Term-Holiday-offer! If you sleep 2 or more nights in the same accommodation, you can save massively.
You should also take a look at our event calendar. The people of Turisedia loved celebrating and therfore we continue this tradition. Cultural highlights are the FUNKELORUM as well as the world music festival FOLKLORUM - the Turisedian Festival Games.