Last minute or elaborately planned and arranged with lots of details: one can gather greatly in one of our places and have wonderful feasts, conferences or group relaxing time.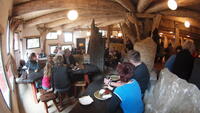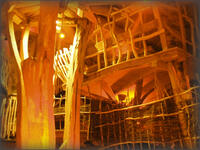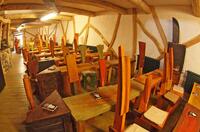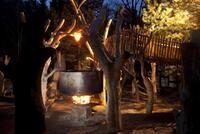 In a snugly and warm atmosphere of Tree Trunk Tavern the party can enjoy culinaric delicacies. For shindings with lots of collegues, family members or friends (up to 40 people) our kitchen may also conjure up a tasty buffet.
The KRÖNUM offers space for up to 199 guests. In 13 cosily arranged recesses, a stage, a bar and a buffet room this hall is a true adventure. Until 15th of december 2018 a truely turisedian vaudeville show takes place with 4-course-dinner mainly on friday and saturday. For groups with at least 50 people additional dates for the show can be booked.
(ATTENTION: Please consider that the show is presented in German language.)
The Seminar Room is a separate hall on the Krönum roof, which contains all necessary conference technic, seats and tables and a bar. This place can be used for conferences as well as great parties.
A get-together is also very recommendable in the archaic, turisedian spa called "Faulenzum". The party can sit together unconstrainedly in the huge cannibal kettles filled with hot water. The waiters bring drinks and snacks right to the rim of the hot tub.
Artists, special technic, a programm or other equipment can be easily arranged during booking.
Prices will be arranged separately. The buffet price is integrated in the rent of the room.
Booking: buchung@kulturinsel.de; +49 35891 491 13