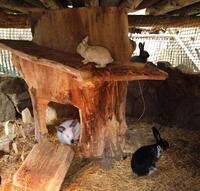 Cute or petulant, in two patting zoo areas one can observe the habits of the inhabitänts of the secret world of Turisedia - close to touch. Having a bag full of animal food, which can be aquired in Tree Tunk Tavern, any Rabbit, Goat or Sheep is ready to become your friend.
Bird's Restaurant Lookout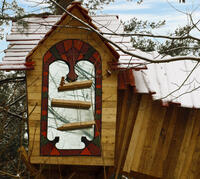 Dinner is served! The plates are full of grains. Behind the spying glas one has a very close and very neat lookout on this spectacle. Who knows the names of all those birds who stay with us in winter instead of leaving towards south?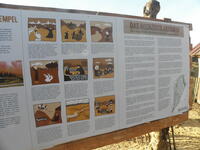 At the northern end of Kulturinsel a new mysterious, approx. 4 ha wide park takes shape. The both full-time Turisede-Researchers Jurusch Gorlik and N.A. Ratow take responsibility in the neuest achievements of this new and huge project. It's been said, that this area will give new insight of the disappearance of the Turisean people and culture about 1000 years ago.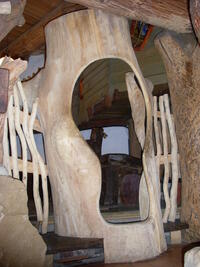 In the cozily warm Tree Trunk Tavern lunchtime and dinners are the best. But it can take a little time until the meals are on the table. And sometimes the parents eat boringly slow. The Rascals Robinia helps out at that time. A little role play ensemble, bord games and a climbing space gives kids the opportunity to not waste time waiting.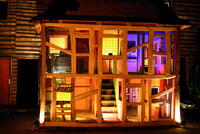 A dream is coming true when the dollhouse suddenly is big enough for kids to enter themselves and play in it.
3 doll house floors offer a great playing space for any kind of weather. And while kids emerge in their play, parents can relax and watch them from the outside.