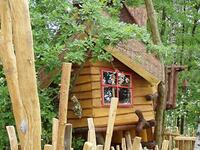 The mysterious house of our herb witch Babadoro can accommodate four people. Here it is beautiful green and comfortable. With a spoon for her collection you can give her a pleasure.
Bodelmutz, one of our forest spirits, is not only very sleepy and voracious, but also plays tricks on one or the other. Therefore it is not surprising that his tree house is quite spooky. It fits max. 2 adults and 2 children and Bodelmutz would love a new alarm clock.
In the cozy dwelling of the lively Forest Spirit Modelpfutz, two adults and two children find place up in the summit of the tree. Modelpfutz loves climbing- and mountaineering postcards.
In the rooms of the immigrated Viking Gundiok it is very cuddly. Up to 2 adults and 4 children can spend here adventurous nights in the trees. No wonder his his little house is equipped with lots of bells? After all, one should always keep his flock together.
Fiona, our light fairy, loves buttons. Her cottage for 3 adults (+ 1 emergency bed) is playful, blue and has a great view from the balcony to the meadows of the river Neisse.
Judka can welcome up to four people in her oriental-like Family Tree House. As a hospitality gift, she would be very happy with a new key to add to her collection.